Collaborators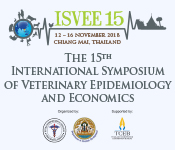 The 15th International Symposium of Veterinary Epidemiology and Economics (ISVEE 15) is coming to Chiang Mai, Thailand, on 12 - 16 November 2018. As in previous symposiums, ISVEE 15 will be a global forum for interdisciplinary collaboration and communication among graduate students, postdoctoral fellows, practitioners, junior and senior researchers, as well as policymakers, health, veterinary public health, social science, and animal health economic professionals, to learn and share with a vision of building a better life tomorrow for veterinary epidemiology at the local, regional, and international levels.
---
The European Public Health (EPH) Conference is the annual scientific conference on public health issues in Europe. At this largest annual public health event in Europe over 1,500 professionals convene, learn, network and engage with colleagues to strengthen the profession of public health, share the latest research and information, promote best practices and advocate for public health issues and policies grounded in research. The EPH Conference is an initiative of the European Public Health Association (EUPHA), an independent scientific organisation engaged to build capacity and knowledge in the field of public health.
The conference consists of plenary sessions, workshops, oral, pitch and poster presentations and an exhibition. Keynote speakers from international standing and varying disciplines address the conference themes from different perspectives. The parallel scientific programme of the conference, based on submitted and scored abstracts, focuses on health priority areas, such as innovative solutions for improving quality of healthcare, strengthening public health workforce, sustainability of health systems, and cross-border health threats.
The conference addresses public health professionals, researchers, education specialists, training professionals, students, policy makers and representatives from international and European organisations. The conference has a wide European dimension, with participants from over 65 countries from across the globe.
---